Sub Menu Toggle
UTRGV hosts first competency-based education program in the UT System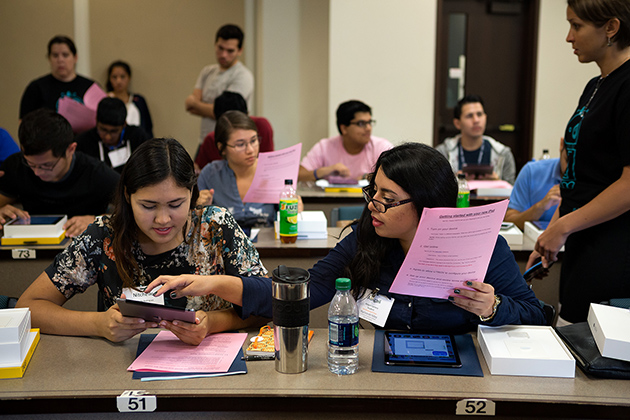 UTRGV biomedical sciences (BMed) students recently got new iPADs that hold the textbooks, exams, and communications platforms needed to complete their coursework. The technology is part of a UT System pilot program this year at UTRGV called Total Education Experience, or TEx, an online application that provides freshmen an opportunity to accelerate and excel in biomedical sciences.
BROWNSVILLE, TEXAS – OCT. 19, 2015 – The University of Texas Rio Grande Valley is now home to UT System's first competency-based education program, with coursework administered via iPad technology for students in the Biomedical Sciences curriculum.
The College of Health Affairs is participating in the Total Education Experience, or TEx, an online application that provides more than 100 freshmen an opportunity to accelerate – and excel – in biomedical sciences.
The program launched this semester on the Brownsville Campus and will serve as a pilot for the UT System. The approach is competency-based, which means the teaching focus is on how each student progresses within the curriculum, rather than on "chair time" in a classroom. On orientation day, each student was given an iPad Air and ZAGG folio keyboard.
The mobile technology holds digital versions of all their textbooks, tests, etc., and allows them to complete coursework and interact with classmates and coaches.
Eighteen-year-old Naomi Lucio, a graduate of the Math and Science Academy based on the Brownsville Campus and now a student in the BMed program at UTRGV, hopes to become a physical therapist one day.  
This was her first iPad, she said. 
"I think it's very convenient," she said. "I can take it with me anywhere and study."
After about three weeks of the program, student Felipe Ramirez said he is able to take his studies everywhere he goes.
Ramirez, 33, hopes to become a physician and focus on diabetes research.
"It's an opportunity that doesn't just come about, and with the new School of Medicine opening up as well, it feels like an opportunity is just here at our doorstep," he said.
Ramirez especially likes the TEx app's availability. He can carry his studies with him while he still maintains a full-time job.
"The TEx app allows me to fill in the gaps," he said. "Wherever I find time, I can definitely study. Essentially, it took the social aspects of Facebook and they've made it for school. Now, I know who my classmates are because of the app."
Ramirez likes that his professors can keep an eye on his progress. The first week of school, Ramirez said, he was having issues with his iPad and a professor reached out to him to ask what the problems were.
"He inspired me," Ramirez said. "Your support team really cares, and it is very inspiring to me to not let them down."
TEx and ITL
The application itself, TEx, is a mobile program designed by the UT System with the goals of boosting student engagement and retention. It offers online support from biomedical faculty, student success coaches and classmates.
Hosted by the UT System's Institute for Transformational Learning, the program is designed to keep students engaged and learning. Through the use of technology, the TEx application is designed to closely monitor each student's progress, allowing the student to advance in stronger areas of study and work at a slower pace in areas that need more attention.
One of ITL's goals is to make quality education more accessible and affordable. It also aims to improve student learning outcomes and dramatically increase the number of Texans with a college degree and other advanced educational credentials.
Amy Shackelford, director of strategic partnerships for ITL, said the idea was created "somewhat organically," as the existing BMed curriculum easily allowed a competency-based educational program to be created. 
"Overall, our goal is to increase student success to see more students not just persist and graduate, but continue on to medical school or into the health care professions," she said.
Marni Baker Stein, chief innovative officer for ITL, said faculty from across disciplines worked together to create the program, and the idea was to keep study materials at the ready so students can keep up with schoolwork wherever they are.
"Thematically, it's all linked together," she said.  
However, the coursework is not solely online. In this hybrid program, students still meet face to face with their instructors.
BMed and TEx at UTRGV
Dr. Michael W. Lehker, UTRGV dean of the College of Health Affairs and a professor of microbiology, said the TEx program is exciting and innovative, and will give students an advantage in a highly competitive world of technology.
"You are a part of history," he told the students assembled for orientation. "Why do I say that? Because you are the first class of UTRGV. But you are also the first class of the reconstituted, remade, College of Health Affairs.Isn't that exciting already?
"As you can see, there are lots of people in this room," he said, "and they're all here to support you."
Dr. Francisco Fernandez, inaugural dean of the UTRGV School of Medicine, said he is excited about this innovative learning program.
"You are forging a new path. You're making history here," he told students during orientation.
Fernandez said the academic and personal support offered through the iPad technology, coupled with one-on-one interaction with professors and classmates, provides the kind of immersion needed to train dedicated, successful professionals in health-related fields.
"Competency-driven coursework allows students to excel at what they enjoy and do well, but it also provides tools that let them identify and focus on areas needing more attention," Fernandez said. "This kind of well-rounded education will enhance the successes of the students we are training for health-related careers. This is more than just a vision on a strategy or a virtual experience. It is our path to the future, because it is here, at UTRGV, right now."