Sub Menu Toggle
Keeping an eye on prevention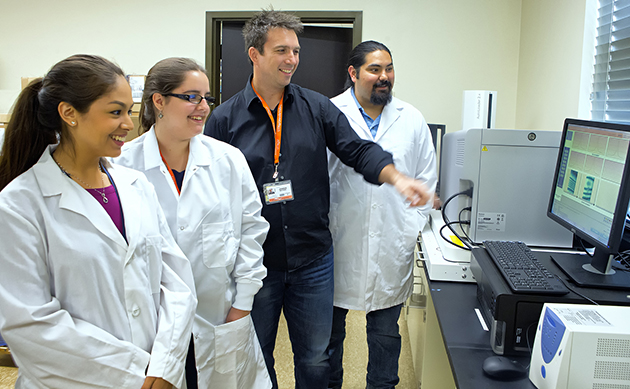 Samantha Gomez (at left), Cecilia Colom, and Johnathon Waggoner (far right) have landed gap-year jobs as research associates in the laboratory of Dr. Matthew Johnson (black shirt), a researcher, associate professor at the UTRGV South Texas Diabetes and Obesity Institute, and principal investigator on STDOI's diabetes-related eye disease research program, with a primary focus on diabetic retinopathy
By Cheryl Taylor
RIO GRANDE VALLEY, TEXAS – OCT. 19, 2015 – Three May 2015 graduates of The University of Texas Rio Grande Valley's legacy institutions have their sights set on public health, medicine and epidemiology.
Cecilia Colom, Samantha Gomez and Johnathon Waggoner have landed gap-year jobs as research associates in the laboratory of Dr. Matthew Johnson, a researcher and associate professor at the UTRGV South Texas Diabetes and Obesity Institute, and principal investigator on STDOI's diabetes-related eye disease research program, with a primary focus on diabetic retinopathy.
The three research associates will have a key role in Johnson's research program – processing blood samples collected from populations in the South Texas region and Nepal – to identify and understand the genetic mechanisms that influence eye diseases of major public health importance.
Dr. Francisco Fernandez, inaugural dean of the UTRGV School of Medicine, said each is a prime example of the sort of talent and dedication the university is counting on to establish a tradition of excellence.
"The future might be anyone's guess, but if I had to make a calculated prediction about what looms ahead, it is all about Samantha, Cecilia, and Johnathon throughout the first decade of their career as scientists, starting here in the Valley," he said.
"Helping promote their core identity as scientists, while creating the scientific home-base for the School of Medicine, is the preeminent professional challenge of the next decade for our programs. STDOI is leading the way in developing a unique range of expertise to train both scientists and physicians meet RGV's health challenges, and that of the world. This is what inspires and excites us every minute of every day about UTRGV and the School of Medicine."
CECILIA COLOM
Colom got a head start on her bachelor's in biology as a UTB/TSC Math and Science Academy student. Her undergraduate experience includes projects concerning the application of nanoparticles in biomedicine in the lab of Dr. Boris Ermolinsky, assistant professor in the School of Multidisciplinary Sciences, College of Sciences, and a summer 2013 internship at MD Anderson Cancer Center's Department of Pain Medicine in Houston.
Colom is giving thought to pursuing a master's in public health. She says whatever career path she chooses, she will honor her late father, the beloved Dr. Luis V. Colom, who was vice president of the UTB/TSC Division of Research and dean of the UTB/TSC College of Nursing and College of Biomedical Sciences and Health Professions. 
"I am extremely grateful and feel privileged to be a part of the STDOI group, whose knowledge and expertise will make this job a great learning experience," Colom said. "This opportunity will allow me to further explore the extensive field of research and learn about the innovative and intriguing ideas that are being pursued from San Antonio to Nepal."
SAMANTHA GOMEZ
Gomez is also a UTB/TSC biology graduate who attended the Math and Science Academy. She began laboratory work in her second semester at the academy, and assisted in epilepsy research in Dr. Emilio Garrido's laboratory for three years.
Gomez took the MCAT in May 2014 and is now interviewing with medical schools to begin in fall 2016. She says she has gotten some good experience since graduation, by shadowing doctors and recording information in her summer job as a scribe at Valley Regional Medical Center in Brownsville.
"I am extremely excited to begin working on such influential and relevant research with STDOI," Gomez said. "Given our largely Hispanic community that holds a predisposition for diabetes and diabetes-related eye diseases, I recognize the great benefit this research will have in the lives of many. It is with great honor that I now play a part in medical advancements that will ultimately lead to the healing of our community."
JOHNATHON WAGGONER
A history buff, Waggoner tacked on a bachelor's in history to his B.S. in biology from UTPA.
He already has substantial laboratory time under his belt, with research that focused on agriculture. One project involved sequencing the genes of the Mexican fruit fly in an attempt to determine population health. He also participated in a community engagement project on agricultural research, to determine the efficacy of growing different cultivars in the Valley.
Waggoner is taking a break from school for the next year, but sees graduate school down the line. He has his eye on epidemiology.
"It's not often that an opportunity to work with world class researchers presents itself," Waggoner said. "I am immensely grateful to have been chosen to join in this work, and I am eager to learn everything I can from my distinguished mentors."
MEDIA CONTACTS

Marci.Caltabiano@UTRGV.edu UTRGV Director of News and Internal Communications
956-665-2742
Jennifer.McGehee@UTRGV.edu UTRGV Director of Public Relations
956-882-5105