Sub Menu Toggle
UTRGV SOM continues community support with health clinics at Indian Hills
The UTRGV School of Medicine's South Texas Interprofessional Team Collaborative for Health (STITCH) provided a free community health clinic on Tuesday, Nov. 17, 2015, at the Iglesia de los Hechos in the Indian Hills neighborhood in Mercedes. (UTRGV Photo by Paul Chouy)
By Jennifer L. Berghom 
MERCEDES, Texas, Nov. 20, 2015 — The University of Texas Rio Grande Valley School of Medicine continued its commitment to serving the Indian Hills community Nov. 17 with a health clinic at La Iglesia de los Hechos where medical residents and other health care professionals provided care to 57 residents.
Services residents received included getting physical exams, having their blood pressure, vision weight and height checked, blood drawn for lab tests on blood sugar, cholesterol and other health screenings and having health care providers take down their medical histories.
In addition to the UTRGV School of Medicine Family Medicine and Internal Medicine residents, faculty and staff and health care providers from partnering institutions, volunteer learners from the university and medical school's pharmacy, social work, nutrition and nursing programs were on hand to provide assistance.
Residents also received information about eating healthy and getting tested for HIV.
To serve as an example, UTRGV School of Medicine's Founding Dean, Dr. Francisco Fernandez, took an HIV screening test at the clinic.
"There is significant importance in terms of knowing your status because, when you know your status, you can anticipate the needs you'll have for your own health as well as protecting others that you may be involved with," he said.
Fernandez added that 60 percent of the new cases reported every year are caused by the 25 percent of the people who do not know their HIV status.
"If we're ever going to make a dent into stopping those cases from ever being the same on an annual basis or rising, we really have to know our status and, in the Hispanic population, that's terribly important because of the issues that abound in terms of fear and discrimination and the stigma associated with the disease."
The trip to the colonia to provide health care is part of the School of Medicine's South Texas Interprofessional Collaborative for Health Care (STITCH), which includes collaborators such as the county's health department, hospitals, nonprofit groups, promotoras and other educational institutions that are teaming up to provide care to communities.
UTRGV and its partners have been traveling to the colonia periodically since the summer to serve the residents of the community. The project is funded by the United Health Foundation.
Dr. John Ronnau, UTRGV School of Medicine's senior associate dean for interprofessional education said the health clinics is just one of many initiatives the School of Medicine is involved with in serving the community. It also provides UTRGV and School of Medicine students an opportunity to develop their skills.
"We have students here from several different disciplines, where medical residents, nurses, pharmacists and other health care professionals are learning through practical experience," he said. "But also it's a chance for the university, for us and the School of Medicine, to give back to the community."
The day culminated with a graduation ceremony for seven Indian Hills residents who have become certified health promoters, also called promotores, through UTRGV and the Texas A&M School of Public Health.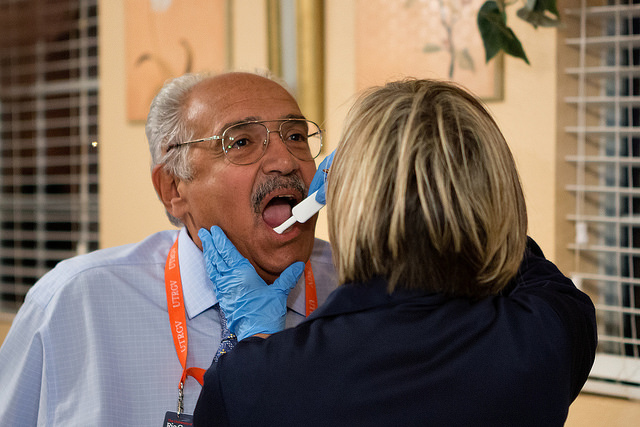 Dr. Francisco Fernandez, dean of the UTRGV School of Medicine, is shown taking a public HIV test during a community health clinic hosted by UTRGV's South Texas Interprofessional Team Collaborative for Health, Nov. 17, 2015, at the Indian Hills neighborhood in Mercedes. The oral swab test is being administered by Linda Nelson, UTRGV senior director for clinical operations. (UTRGV Photo by Paul Chouy)
MEDIA CONTACTS
Marci.Caltabiano@UTRGV.edu UTRGV Director of News and Internal Communications
956-665-2742
Jennifer.McGehee@UTRGV.edu UTRGV Director of Public Relations
956-882-5105