Sub Menu Toggle
UTRGV graduates first class of health promoters under STITCH program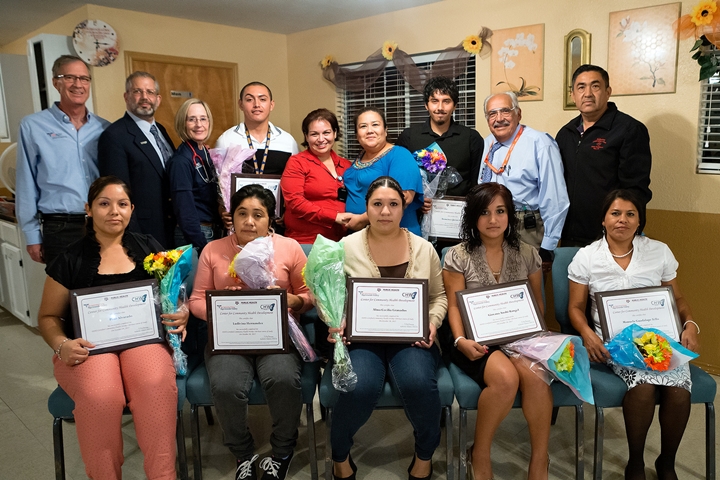 UTRGV School of Medicine's South Texas Interprofessional Team Collaborative for Health (STITCH) this week graduated its first class of promotores at the Indian Hills colonia in Mercedes. From left, back row, are Dr. John Ronnau, UTRGV senior associate dean for Interprofessional Education; Dr. Eron Manusov, founding chair of UTRGV School of Medicine Department of Family and Community Medicine and assistant dean of Education and Clerkships; Linda Nelson, UTRGV SOM senior director of Clinical Operations; graduate Jesus Enrique Delgado; Ernestina Constante, community health worker with Texas A&M Health Science Center; Paula Saldaña, promotora and trainer; graduate Francisco Javier Escalon; Dr. Francisco Fernandez, founding dean of the UTRGV School of Medicine; and Juan Moreno, pastor of La Iglesia de los Hechos. Seated from left are graduates Pilar Alvarado, Ludivina Hernandez, Alma Cecilia Granados, Giovana Anahi Rangel and Manuela Guadalupe Tello. (UTRGV Photo by Paul Chouy)
By Jennifer L. Berghom
MERCEDES, Texas – Nov. 17, 2015 — The University of Texas Rio Grande Valley, in partnership with the Texas A&M School of Public Health, graduated its first class of health promoters, also known as promotores, in the Indian Hills community.
"This is a first for UTRGV," said Dr. Francisco Fernandez, founding dean of the UTRGV School of Medicine. "And it's a first that we take great pride in being a part of. We are honored to be able to make a difference in the colonias and in all the communities we serve."
Fernandez, who awarded the seven graduates their plaques during a ceremony at La Iglesia de los Hechos — the church has served as the host location for health clinics the School of Medicine has been providing to the colonia since summer — highlighted how much good these residents will do for their Indian Hills community.
"They are, in essence, ears within their community," Fernandez said. "They're going to be able to direct people to better healthcare for themselves and their families, and will be able to make tools available to improve health outcomes for the entire community."
Graduates tearfully thanked their instructors, families and the church for their support and for the opportunity to help their families and their community.
One of the graduates, Jesus Delgado, said he is grateful to UTRGV and its partners for offering the program.
"Just knowing the fact that I'm going to be helping others makes me want to learn more. It makes me happy," Delgado said.
Earning his health promoter certificate is just the beginning of a career in healthcare, he said.
"To me, this is like a door that I just opened, and the possibilities are endless now that I see what the benefits are to the people. I just want to continue, to pursue a career in the medical field in the near future," he said.
The seven — five women and two men — received 160 hours of training over three months to become promotores. They will serve as liaisons between their neighborhood and the healthcare community.
Paula Saldaña, the health promoter instructor who trained the group, said promotores are trusted individuals the community goes to when they have a need for anything health-related. In some communities, health promotors even help with education and legal issues, she said.
"They are the heart of the community," Saldaña said. "It's that link between the healthcare system and the community. It's very important also for the promotor or promotora to be part of the community and go through the same issues that they're going through. Because then, they can explain to the community what they went through and they can serve as an example."
The group received training in developing organizational, communication, interpersonal and other related skills, she said, and learned about healthcare-related advocacy and confidentiality.
Traditionally, women have served as health promoters, or promotoras, in South Texas colonias. Now, more men are getting certified, Saldaña said, and that is a welcome addition. Promotores can be strong advocates to help the men in their communities get the healthcare they need.
"That way the community can know that anybody can be a promotor or promotora and receive the help that they're looking for," she said.
The health promoter training program was funded by the United Health Foundation and is part of UTRGV School of Medicine's South Texas Interprofessional Team Collaborative for Health (STITCH), which includes collaborators such as the county's health department, hospitals, nonprofit groups, promotoras and other educational institutions that are teaming up to provide care to communities.
In January, the United Health Foundation announced it was giving UTRGV School of Medicine $2.8 million over three years, to support the school's Colonia Integrated Care Program: VIDAS (Valley Interprofessional Development and Services), which involved several collaborative initiatives to provide health care to underserved communities.
For more information, contact Alexandra Garcia, UTRGV Office for Sustainability program coordinator, at (956) 665-3731. 
MEDIA CONTACTS
Marci.Caltabiano@UTRGV.edu UTRGV Director of News and Internal Communications
956-665-2742
Jennifer.McGehee@UTRGV.edu UTRGV Director of Public Relations
956-882-5105