Sub Menu Toggle
UTRGV Smart Hospital helps train healthcare providers throughout the Rio Grande Valley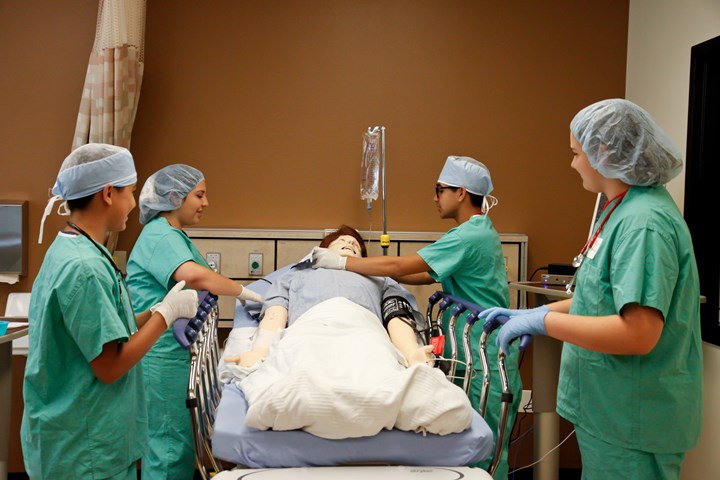 Students interested in the health professions are now able to visit and study at the UTRGV School of Medicine's Smart Hospital, where they get hands-on training and practical experience in a broad range of medical topics. The simulation center has state-of-the-art medical technology, including simulation "patients" like the one shown here. The Smart Hospital is based at the Regional Academic Health Center in Harlingen. (UTRGV Photo by Jennifer Wiley)
By Jennifer L. Berghom
HARLINGEN, TEXAS – NOV. 16, 2015 – On any given day, The University of Texas Rio Grande Valley's Smart Hospital plays host to a variety of students and healthcare providers who arrive for training in a range of disciplines.
The 15,000-square-foot, 20-bed simulation hospital opened in May 2014 as part of The University of Texas Health Science Center at San Antonio, and was designed and built using $10 million from The University of Texas System Board of Regents.
Today, the Smart Hospital is part of the UTRGV School of Medicine, and will be used to train medical students after the school opens in fall 2016. It currently is in use by area schools and organizations, to teach and train students in healthcare disciplines.
Dr. Leonel Vela, founding dean of the UT Regional Academic Health Center and now UTRGV's senior associate dean of education and academic affairs and professor of medicine, said the simulation center has manikins and other equipment that enable students from all kinds of health care disciplines to engage in team-based learning and to develop the inter-professional and other related skills they need to treat patients successfully.
"As medical technology advances, we plan to add simulation equipment and computer-regulated 'patients' that can help us provide our students with access to critical training that, sooner rather than later, will help save lives," he said.
The simulation hospital allows students to train on a whole spectrum of procedures, from performing surgery to delivering newborns in an environment that focuses on patient safety, Vela said.
He likens it to airplane pilots, who use simulation in their training to develop skills that protect others.
"Simulation has similar applications to provide us with using this incredible technology, so that these future physicians will be able to hone in on their skills, just like pilots would, to provide the best care for the patients," Vela said.
"And it's not just on an individual basis, he said. "They will be able to do this with other healthcare professionals they're training with, because medicine is about teams."
Dr. Kristina L. Stillsmoking, director of the simulation hospital and director of Clinical Simulation at the School of Medicine, said the UT System Board of Regents was aware of the Rio Grande Valley's healthcare challenges and moved to address them.
"They saw that this has been an underserved and under-supported area, and they decided to help everybody in the Valley," Stillsmoking said. "That's what we're here for."
The simulation hospital includes state-of-the-art equipment and simulation manikins, as well as a fully functional operating room, a recovery room, an intensive care unit (ICU), an emergency room, four-bed medical surgery suite, pediatric ICU, birthing room and post-partum area.
It also has an efficiency apartment that students in various disciplines, such as social work, occupational therapy or psychiatry, can use for training.
Any of the rooms can be reconfigured for different uses, depending on what type of training is needed.
"It is basically a hospital. The only thing it lacks is medical oxygen and, of course, live patients, doctors and nurses," Stillsmoking said
With few clinical sites available, the simulation hospital allows those studying healthcare professions to hone their skills. In fact, the different regulatory agencies in the healthcare system are mandating that simulation education be used to training healthcare professionals, she said.
The simulation facility also provides a way for students to experience working in an inter-professional setting, and can be used by students in a variety of disciplines including pharmacy, nutrition and social work.
"It's a place where they can come together and practice their skills in a safe environment," Stillsmoking said. "Here, if they do make a mistake, they do learn from it – and they're not hurting a live patient. Everybody's coming together to train. We're not training in silos anymore."
Tina Garza, principal of the Harlingen School of Health Professions, said that to help prepare students for careers in medicine, HSHP works to align their experiences and exposure throughout the academic year. 
"Having the Smart Hospital readily accessible provides opportunities for students to access state-of-the-art facilities and faculty, which in turn keeps them up-to-date on advancements in the field of technology and medicine as we refine their skills and develop their self-awareness to be better prepared to work with patients," Garza said. "Placing students at the front of the line is HSHP's mission."
Part of that mission, too, is helping students establish a commitment to community as they develop into the future medical students. 
"Through opportunities such as this, students will be able to identify areas of need in the Rio Grande Valley and focus on those initiatives through the partnerships created," Garza said. "They start to establish a network of colleagues who can support and inspire them, as they continue through their post-secondary preparation."
Dr. Francisco Fernandez, inaugural dean of the UTRGV School of Medicine, said the simulation complex is a wonderful component of the School of Medicine and will have a prominent role in instruction starting with the first SOM cohort.
"This helps us provide hands-on experience for students," he said. "At the same time, it helps students decide early on if a medical career is the right choice for them. This Simulation Center will be a key component of our commitment to advancing medical education and producing healthcare professionals who can serve our Valley communities."
MEDIA CONTACTS
Marci.Caltabiano@UTRGV.edu UTRGV Director of News and Internal Communications
956-665-2742
Jennifer.McGehee@UTRGV.edu UTRGV Director of Public Relations
956-882-5105