Sub Menu Toggle
Dr. Adela Valdez brings experience, expertise in Student Affairs to UTRGV School of Medicine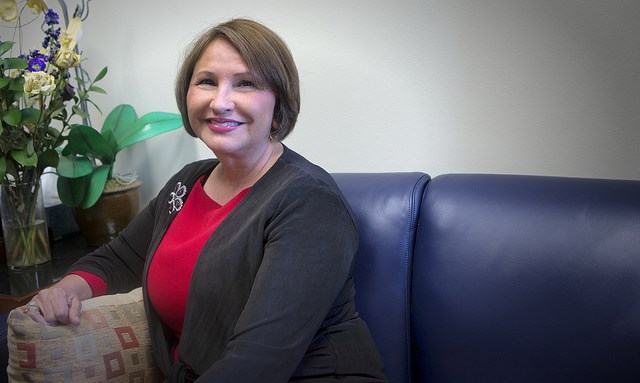 DR. ADELA VALDEZ (UTRGV Photo by David Pike)
By Gail Fagan
RIO GRANDE VALLEY, TEXAS – NOV. 16, 2015 – Harlingen native Dr. Adela Valdez said she knew that, one day, the Rio Grande Valley would have a school of medicine. She just didn't know if she would still be around to see it.
To her delight, that day came much sooner than expected.
Now, as the new associate dean of Student Affairs at The University of Texas Rio Grande Valley School of Medicine, Valdez points to the efforts that have led up to this milestone in higher education.
"One of my missions in life was to see a medical school in the Valley, and for students to not have to go away to get a medical degree, and to be alive when it happened," Valdez said. "This was many, many years of work to get this done. We just had the right leadership and the right timing. It is historic."
Valdez, also a clinical professor and assistant dean in the Department of Family and Preventive Medicine, will oversee the programs that support medical students and enhance their educational experience at the UTRGV School of Medicine. Working with finance and administrative colleagues, she will obtain and allocate funds, space and faculty to programs to ensure their quality, maintain appropriate accreditation and be responsive to students' needs.
"My job is to get to know our medical students really well as individuals, and to meet as many of their needs as I can to ensure their success," she said.
Her role also encompasses the admissions process, making sure the School of Medicine has a strong student body that reflects its mission.
"We look for those underrepresented in medicine because that increases the richness of the learning environment. We are doing a holistic review of the applicants, looking at the applicants for their entire value and the experiences they have had, and how they will enrich us," she said. She noted that more than 3,000 applications have been received since the School of Medicine received its preliminary accreditation from the Liaison Committee on Medical Education (LCME) on Oct. 16, 2015.
Dr. Francisco Fernandez, inaugural dean of the School of Medicine, said Valdez brings a longstanding dedication to education and experiential knowledge of higher education needs in South Texas.
"Dr. Valdez understands that we are only as good as our least successful students, and that raises the bar in terms of our commitment to our students. We know she will create an atmosphere in which opportunity and excellence meet. Moreover, Adela brings proven experience in creating an embracing, welcoming and supportive environment for every student. We are pleased to have her guidance as we look to our first School of Medicine cohort in fall 2016."
PERSONAL JOURNEY
Valdez began her own path to a medical degree as a home economics major at UT Austin. While taking her core science classes, her interest in science grew. Enamored with her first anatomy-physiology class, she decided on a career as a family practice physician.
She earned a B.S. in biology from the University of Houston, an M.D. from the Baylor College of Medicine in Houston, and did her residency at The University of Texas Health Science Center at San Antonio's (UTHSCSA) family practice program in McAllen.
"I'm glad I got to train here those last years, because I would never had been prepared to deal with medicine as it was in South Texas in 1983, where there was every lack that you can think of and almost every patient I saw was end-stage," said Valdez, whose mission became to better serve the underserved in the area where she grew up.
In 2011, she also earned an MBA from Grand Canyon University in Phoenix, Ariz.
Since receiving her M.D., Valdez's career has had many trajectories, all primarily focused on the establishment and development of undergraduate, graduate, faculty and continuing medical educational programs in the Valley.
She has held a variety of clinical and administrative positions with UTHSCSA since 2002, and most recently was assistant regional dean for the Regional Academic Health Center (RAHC) in Harlingen, then a UTHSCSA remote campus that now is part of the UTRGV School of Medicine.
At the RAHC, she has collaborated with its Department of Family Medicine in the establishment of a community-based family medicine residency program, community service learning opportunities for medical students, and in the development of community sites for medical clerkship rotations. Prior to her work at UTHSCSA, she served as a hospital administrator and also had a private family medicine practice in Harlingen.
Valdez loves her role as a facilitator of student success. She says it is "incredible" when she sees her former students now coming back as UTRGV School of Medicine faculty or practicing physicians.
"I knew education was the future of the Valley and I knew healthcare would be equally important. So, what a great blessing for me to be involved with both," she said.
Valdez has two children, both of whom have followed her into the medical field. Her daughter Dora is a practicing family physician in the Valley. Her son Luis will soon receive his degree from UTRGV in occupational therapy. In her spare time, Valdez enjoys weight lifting, but values most the time she spends with her two grandchildren.
MEDIA CONTACTS
Marci.Caltabiano@UTRGV.edu UTRGV Director of News and Internal Communications
956-665-2742
Jennifer.McGehee@UTRGV.edu UTRGV Director of Public Relations
956-882-5105