Sub Menu Toggle
At UTRGV, STDOI biomedical research scientist is studying genetic risk factors in diabetes-related eye disease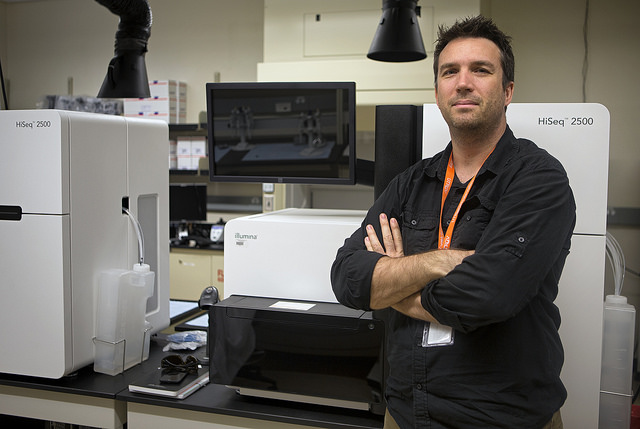 Dr. Matthew Johnson is an associate professor and biomedical research scientist at The University of Texas Rio Grande Valley South Texas Diabetes and Obesity Institute (STDOI). (UTRGV Photo by David Pike)
By Cheryl Taylor
BROWNSVILLE, TEXAS – NOV. 16, 2015 – A trip to Nepal for most people is a once-in-a-lifetime mountain climbing adventure. For Dr. Matthew Johnson, however, it is a twice-a-year excursion for his research into diabetes-related eye diseases.
Johnson, a Texas transplant from Queensland, Australia, is an associate professor and biomedical research scientist at The University of Texas Rio Grande Valley South Texas Diabetes and Obesity Institute (STDOI).
Along with a 21-person team of researchers led by STDOI Founding Director Dr. Sarah Williams-Blangero, formerly chair of the Department of Genetics at the Texas Biomedical Research Institute in San Antonio, Johnson relocated with other TBOI personnel to the Valley earlier this year with the newly created research institute.
The group of doctoral-level researchers and support staff is spread among two of the three UTRGV campuses in Brownsville and Edinburg, and at the STDOI Annex in San Antonio. Johnson's laboratory is in the Dr. Luis V. Colom Center for Biomedical Studies on the Brownsville Campus.       
"We are looking at genetic risk factors influencing eye health and disease, and are fortunate that Dr. Williams-Blangero and another key member of the STDOI research group, Dr. John Blangero, have established two strong subject cohorts," Johnson said. "One is a population of large Mexican-American families in the San Antonio area, and the other, the one I primarily work with, is in Jiri, Nepal."
Jiri is a region that lies about 120 miles east of the Nepalese capital of Kathmandu, and consists of eight villages. Of the 4,500 – 5,000 residents of the area, more than 2,500 have participated in past research projects lead by Dr. Williams-Blangero, and all individuals can be linked into one large family pedigree.
"This provides us with a goldmine of information for genetics research," Johnson said.
"Understanding the genetics 'behind' blindness and poor vision in understudied populations from the developing world – like the Jirels of Nepal – is an important step in the fight against reducing the global burden associated with poor eye health and disease."
Working with the information already collected in the Jirel population over the past 28 years by Dr. Williams-Blangero, along with this new study, Johnson said, will "make a great contribution to this fight."
Johnson, a molecular geneticist by training, collaborates with Dr. Suman Thapa, an ophthalmologist at the Tilganga Institute of Ophthalmology in Kathmandu. Other key members of the Nepal project are Blangero, a statistical geneticist, Dr. Janardan Subedi, a sociologist from Miami University, Ohio, and Dr. Bradford Towne, a population geneticist from Wright State University, Ohio. Williams-Blangero is a genetic epidemiologist.
Johnson also is leading the effort to establish a long-term project on eye health and disease in the Mexican-American families of San Antonio.
"We are currently analyzing pilot study data obtained from a comprehensive eye exam conducted on these individuals," he said. "The plan is to use these preliminary data for an application to the National Institutes of Health to expand this recruitment to at least 1,000 individuals."
For this project, Johnson is collaborating with Dr. Kent Anderson, an ophthalmologist in the Department of Ophthalmology, University of Texas Health Science Center at San Antonio, Blangero and Dr. Ravindranath (Ravi) Duggirala, a key member of the STDOI research team.
Johnson said future plans to establish an eye study in South Texas are on the drawing board.
Johnson and Williams-Blangero depart this month for Kathmandu, and then continue by vehicle to Jiri, with an elevation of 7,500 feet. They will be gone for about three and a half weeks.
"Being at UTRGV, in a university environment, has already started to open more doors and avenues for added collaboration," Johnson said. "One of our goals is to improve ethnic minority health, and to close the disparity in care to these underserved populations."
MEDIA CONTACTS
Marci.Caltabiano@UTRGV.edu UTRGV Director of News and Internal Communications
956-665-2742
Jennifer.McGehee@UTRGV.edu UTRGV Director of Public Relations
956-882-5105