Sub Menu Toggle
UTRGV A-PRIME TIME holds open house for potential applicants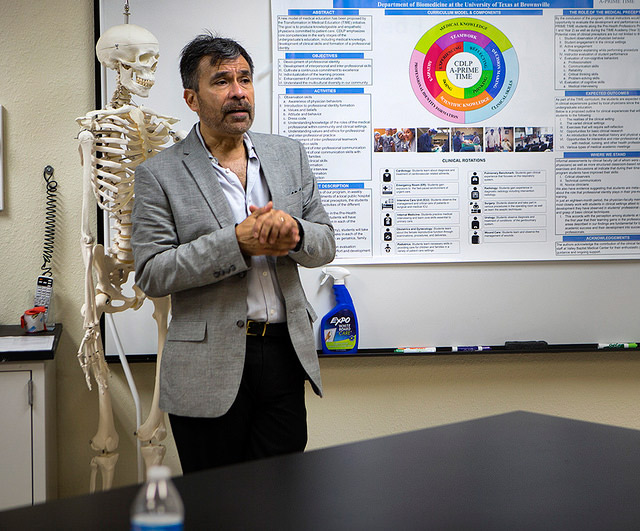 Dr. Hugo Rodriguez, program director of the A-PRIME TIME* program, welcomed guests to the A-PRIME TIME* Open House, where student and parents learned about the program and toured the UTRGV Brownsville Campus facilities. (UTRGV Photo by David Pike)
By Vicky Brito
BROWNSVILLE, TEXAS – OCT. 31, 2015 – About 50 future biomedical students attended the Accelerated Professionals Relevant Integrated Medical Education program open house on Saturday, Oct. 31, as part of the Transformational in Medical Education, or TIME, initiative at The University of Texas Rio Grande Valley.
A-PRIME TIME is a shorter pathway from undergraduate education to medical school, providing students with a competency-based education that focuses less on lectures and more on retention.
"We don't want the typical student," said Hugo Rodriguez, assistant professor of Biomedical Sciences at UTRGV.
Using modules, the students are able to accelerate at a pace that is comfortable for each individual.
Each semester the students take 16.5 credit hours to complete their degree.
Rodriguez said the three basic elements are a pre-health professions program, competency-based education and professional identity formation.
"We want to try to get word out about our program," he said. "We already have several from out of the Valley." 
Current A-PRIME TIME students gave visiting high school students and their parents tours of the UTRGV facilities, including the biomedical research building on the Brownsville Campus.
Veteran's Memorial High School Senior Stephanie Garcia was intrigued while touring the building. 
"I'm really interested in the medical field and I want to pursue my dream, so I'm looking for as many options as I can," she said. "I heard about this program, that it was a really good one, and I'm really eager to try my best to get into this program."
Christian Lefler, also a senior at Veteran's Memorial High School, said he likes learning about science and medicine in his high school.
Originally from San Angelo, the senior said the proximity to the Valley appeals to him as he chooses his biomedical undergraduate program.
"I like science and I like helping people, and what better way to use science and help people than through the medical field," he said.
Manuel Saldivar, program coordinator for the Department of Health and Biomedical Science, said the open house helps get the word out about the program, not only in the Valley but beyond.
"We've been very fortunate, having a lot of students not from the Valley. We have several from Houston and Dallas, for example. They have helped spread the word," he said. "…We find this is a good way to get potential applicants, but also to begin to establish relationships with teachers and counselors at area high schools, to help us attract more folks."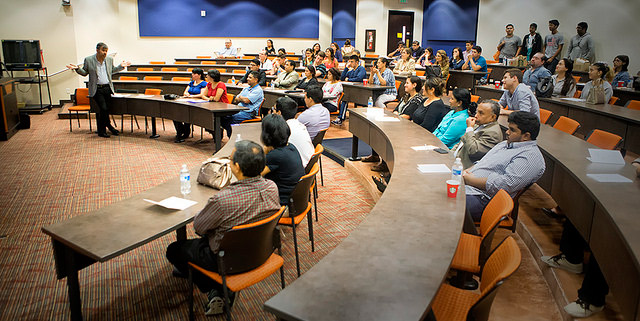 Dr. Hugo Rodriguez, program director of the A-PRIME TIME* program, welcomed guests to the A-PRIME TIME* Open House, where student and parents learned about the program and toured the UTRGV Brownsville Campus facilities. (UTRGV Photo by David Pike)
MEDIA CONTACTS
Marci.Caltabiano@UTRGV.edu
UTRGV Director of News and Internal Communications
956-665-2742
Jennifer.McGehee@UTRGV.edu
UTRGV Director of Public Relations
956-882-5105