Sub Menu Toggle
Dr. Leonel Vela, 15 years with the Harlingen RAHC, takes on new role with UTRGV School of Medicine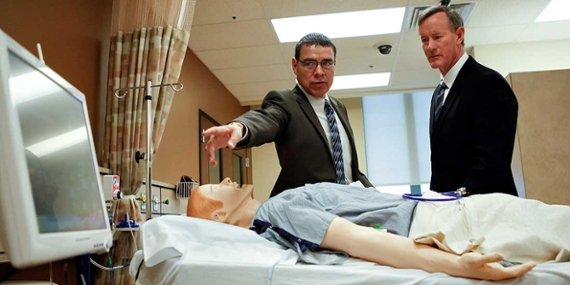 Dean Leonel Vela takes UT System Chancellor William McRaven on a tour of the UTRGV simulation hospital at the Harlingen RAHC in January 2015.
HARLINGEN, TEXAS – MARCH 20, 2015 – For the past 15 years, medical education in the Rio Grande Valley has been under the watchful eye of Dr. Leonel Vela, Founding Regional Dean of The University of Texas Health Science Center at San Antonio (UTHSCSA) Regional Academic Health Center (RAHC) in Harlingen.
Vela began his work at the Harlingen RAHC on March 1, 2000. He observes his 15-year anniversary with the institution this month while already deeply committed to his new role in the next chapter of medical education in the Valley at The University of Texas Rio Grande Valley School of Medicine. Vela has been named the Senior Associate Dean for Student Affairs at the new medical school.
"I am thrilled and excited about what lies before us all," Vela said. "We are so fortunate to have Dr. Francisco Fernandez at the helm as Founding Dean of the UTRGV School of Medicine. He has established a team that has coalesced around his vision of Valley medical education that is focused not only on producing excellent physicians but also physicians being an integral part of transforming healthcare for the area's residents. Dr. Fernandez is always mindful that the community's best interests be paramount in our efforts."
As Regional Dean, Vela has directed the medical education and biomedical research components of the RAHC. He managed the development and establishment of the RAHC campuses during their formative years. He holds an academic appointment of Professor with Tenure in the Department of Family and Community Medicine at the UTHSCSA School of Medicine.
"Reflecting over past 15 years, I remember the challenges and the joys," Vela said. "We had to establish the faculty base for the RAHC; and it was exciting to work with the architects to contribute to the design of the buildings, both the Harlingen RAHC and the RAHC Medical Research building in Edinburg."
Above all, Vela said he is proud of the educational programs he and his team developed in those early years.
"I am particularly gratified that over the years RAHC-based medical students have performed   comparable to San Antonio-based students in their clinical clerkships and exams and in obtaining acceptance to top residencies across the country," he said.
A native of Pharr, Texas, Vela said he draws strength from his humble farmworker family background.
"We see so many challenges in our region," he said. "When I started at the RAHC 15 years ago, I always had my eye on the eventual transformation of this program into a full medical school. Now my dream, and that of many others, is being realized. UTRGV and its School of Medicine will be a beacon of hope for a better future for all residents of the Rio Grande Valley."
About Dr. Leonel Vela
Vela received his undergraduate degree in Medical Microbiology from Stanford University and his medical degree from Baylor College of Medicine. He completed post-graduate studies at Harvard University where he received a Masters of Public Health Degree; he also completed post-graduate training in Preventive Medicine. While at Harvard he was the recipient of a Kellogg Fellowship in Health Policy and Management. Vela received additional training in epidemiology at the CDC in Atlanta, and a fellowship in Community Medicine at Baylor College of Medicine. He is board-certified in Preventive Medicine and is a Diplomate of the American Board of Preventive Medicine.
Prior to his current appointment at UTHSCSA, Vela was the Vice President for Rural and Community Health at the Texas Tech University Health Sciences Center (TTUHSC). At TTUHSC, he was the first holder of the Marie Hall Endowed Chair in Rural and Community Health. Additionally, Vela was the Medical Director for Telemedicine and Editor of the Texas Journal of Rural Health.
Vela has served on several state, national and international committees addressing tuberculosis, diabetes, migrant health, border health and telemedicine. He has been involved in publications and professional presentations addressing these topics, including public health and emerging infections on the border. He has participated in several professional organizations and previously chaired the National Advisory Council on Migrant Health for the U.S. Secretary of Health.
Vela has received various awards and was honored by the U.S. Department of Health and Human Services Migrant Head Start Branch, as recipient of the Plate of Bounty Award. He also served as Chair of the Group on Regional Medical Campuses for the Association of American Medical Colleges.
Media Contacts:
Letty Fernandez,
UTRGV Director of Media Relations
956-882-6535

Jennifer McGehee-Valdez,
UTRGV Director of Public Relations
956-882-5105

Marci Caltabiano Ponce
UTRGV Director of News and Internal Communications
956-665-2742