Sub Menu Toggle
UTRGV School of Medicine partners with STC and Hidalgo County to offer GED classes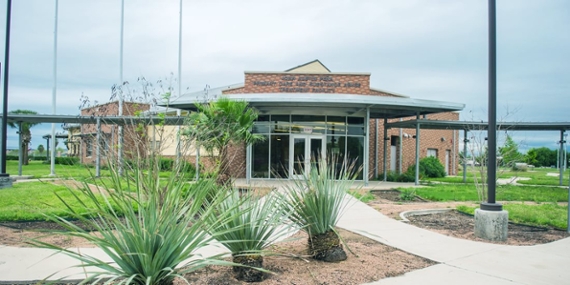 EDINBURG, TEXAS – JUNE 20, 2015 – The University of Texas Rio Grande Valley School of Medicine, in conjunction with South Texas College, starting this month will offer GED preparation classes and career counseling for at-risk adolescents wanting to achieve productive adult lives.
Youths from 12 to 18 years of age who are patients at the Hidalgo County Health Department and UTRGV School of Medicine's clinic at the John Austin Peña Memorial Center in Edinburg, and others from area agencies, will be the beneficiaries of this partnership available to at least 15 students. The center offers an interprofessional team care model, which means the patient will be cared for and interact with various professionals in primary care and behavioral health.
As part of the collaboration, STC will offer financial aid for the classes and funds to cover a teacher's salary.
"We want them to have a productive adult life, be better prepared and able to get a better job," said Linda S. Nelson, UTRGV senior director for clinical operations. "We want them to go forward, whether it's vocational or in an academic setting. Whatever it is, we want to give them the tools to move forward."
About The University of Texas Rio Grande Valley
The University of Texas Rio Grande Valley was created by the Texas Legislature in 2013 in a historic move that made it possible for residents of the Rio Grande Valley to benefit, for the first time, make it possible for residents of the Rio Grande Valley to benefit from the Permanent University Fund, a public endowment contributing support to eligible institutions of The University of Texas System and the Texas A&M University System.
UTRGV will also be home to a School of Medicine and will transform Texas and the nation by becoming a leader in student success, teaching, research and health care. UTRGV will enroll its first class in the fall of 2015, and the School of Medicine will open in 2016.
For more information on UTRGV, please go to its website at www.utrgv.edu, like its Facebook page, or follow @utrgv on Twitter.   
Media Contacts:
Marci Caltabiano Ponce, UTRGV Director of News and Internal Communications
956-665-2742
Jennifer McGehee-Valdez, UTRGV Director of Public Relations
956-882-5105