Sub Menu Toggle
School of Medicine receives candidacy to begin accreditation process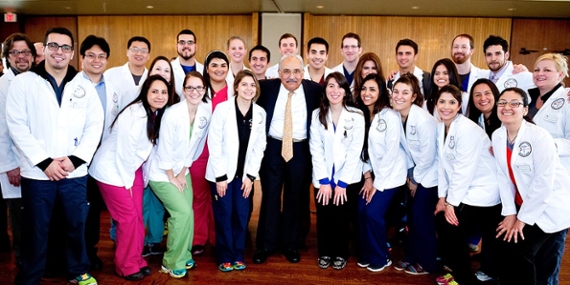 Dr. Francisco Fernandez joins UTPA Physician Assistant and Pharmacy students after being introduced
as Dean for the UTRGV School of Medicine on Feb. 26, 2014.
HARLINGEN, TEXAS – FEBRUARY 20, 2015 – The University of Texas Rio Grande Valley School of Medicine has received notice from the Liaison Committee on Medical Education (LCME) that it has approved the new medical school's candidacy for accreditation.
LCME candidacy status is the first step of a long process to achieve full accreditation. Any new medical education program seeking LCME accreditation must follow a series of steps outlined in the LCME Rules of Procedure policy document.
"This is wonderful news," said Dr. Francisco Fernandez, Founding Dean of the UTRGV School of Medicine. "This means the LCME grants candidacy status to the School of Medicine educational program, giving us the official green light to schedule a site visit for preliminary accreditation."
After the school achieves preliminary accreditation status, it will be allowed to recruit its charter class.
As the program is developed and additional resources are put into place, the program will be evaluated and reconsidered along the way. If all goes well, the program will undergo a full survey early in the fourth year of the charter class's progression.
"This will be an ongoing process over the next several years, with faculty and staff putting forth tremendous effort to fulfill requirements and corresponding documentation," Fernandez said. "I feel confident that we will indicate to the LCME's satisfaction that the program meets all standards of accreditation and the UTRGV School of Medicine will be granted accreditation."
The Liaison Committee on Medical Education (LCME) was founded in 1942 to unify the separate accreditation activities of the Association of American Medical Colleges (AAMC) and the Council on Medical Education of the American Medical Association (AMA).
The LCME accredits complete and independent medical education programs whose students are geographically located in the United States or Canada for their education, and which are offered by universities or medical schools that are chartered and operated in the United States or Canada.  The LCME is recognized by the U.S. Department of Education as the reliable authority for the accreditation of programs of medical education leading to the M.D. degree.
Media Contact:
Letty Fernandez, UTRGV Director of Media Relations
956-882-6535 Letty.Fernandez@utrgv.edu
Related Articles:
Regents approve medical degree program for UTRGV
Construction begins on first new building for UTRGV medical school